Despite what you've heard, you CAN travel with a baby. You just need the right gear. The Modern Help has you covered with our top 10 must-have products that will make traveling with your baby a breeze!
---
1. Doona Infant Car Seat & Stroller
Photo Credit: Amazon
This 10 lb car seat/stroller provides exceptional convenience for not only traveling families, but families that are constantly on-the-go. This car seat is truly mom's best friend! No more juggling an infant seat and a stroller base attachment. You won't even need to pack or check a stroller for your trip at all. Having one piece that doubles as both a car seat and a stroller is a game changer. One push of a button enables you to convert this car seat to a stroller and back again. The Doona can be used with or without the base so when traveling you can quickly and easily pop it in and out of rental cars and ubers by securing it with the seat belt instead of a base with a LATCH system. As an FAA compliant seat, you can effortlessly stroll your baby through airport security and right onto the plane or check it at the gate.
The Doona is suitable for infants from 4 lbs to 35 lbs and 32 inches long, however, it's important to mention that this seat is only comfortable for most babies through the first year. Babies can start to feel tight in the seat around a year old due to their length even though they are far below the weight limit. The average 18 month old is around 32 inches long. This is an expensive item, around $500. If you can afford it, the convenience it offers that first year is well worth the cost.
---
2. J.L. Childress Padded Car Seat Travel Bag
Photo Credit: Amazon
If you are flying, do not underestimate the importance of a PADDED car seat travel bag to protect your baby's car seat. Bag handlers could potentially damage a car seat in a non-padded travel bag that offers zero protection and basically only serves to keep the car seat clean. This could cause a disastrous inconvenience if the seat is damaged and you need to find a replacement. Traveling with infants poses enough challenges, avoid the possibility and use a padded travel bag for added protection.
This universal padded car seat travel bag is compatible with almost every car seat on the market. It also comes in an option with wheels. The Doona padded travel bag is an excellent option if you have their car seat/stroller.
---
3. Doona 360° Protection – Sun & Insect Shade
If you have the Doona, this shade is a must! It provides 360 degree protection for baby. It's a machine washable sun and insect shade in one. It offers great protection for baby as you navigate busy spaces with strangers that seem to have an issue with boundaries. Why is it that people feel entitled to touch a baby's foot with their germy airport hands or lean over your child to get a close-up as they breathe all over them? This shade allows you to protect your baby in many ways, avoiding the awkward "please don't touch my child" conversation. For those pandemic parents struggling between keeping their baby in a bubble and getting back out in the world, this is definitely the product for you! Baby can also keep themselves entertained with a toy as this shade covers all angles, protecting the toy from hitting the floor or falling out. There is a zipper at the top which allows you to peek in or leave slightly open to monitor your child as needed. This is an all around great multi-purpose product to have when traveling.
---
4. Lotus Travel Crib by Guava Family
Photo Credit: Amazon
It's important to have a safe, clean place for your baby to sleep. Not all hotels and rentals have cribs available. Even when they do, are they really sanitized between guests? And, with what cleaning agents? Who knows. I can almost guarantee it's not with your preferred nontoxic, cleaning products that you may use at home. Even if the crib is cleaned, should your baby really be breathing in the products used? Probably not. Other reasons to pack your own crib is consistency and familiarity. This will help your baby adjust more quickly if they use the same crib every time you travel.
The Lotus Travel Crib is the BEST travel crib on the market, in my opinion. It's a compact, lightweight 13 lb crib and can be carried as a duffle or an airport-friendly backpack. It also fits into the overhead bin on flights, if you don't want to check it. Keep in mind that some airlines check cribs and playards for free. Be sure to tell them it's a baby item at bag drop. It's notable that this crib is GreenGuard Gold Certified so rest assured, it's safe for baby as it's been screened for over 10,000 harsh chemicals and VOCs. It's washable and has a floor-resting waterproof mattress. Floor-resting mattresses are great because they have no weight limit and eliminate the squeak or shake effect that occurs in other travel cribs where the mattress is supported off the floor. Babies can easily be startled awake every time they roll over if their crib shakes or makes a squeaking sound. This travel crib is suitable for newborn to 3 years old (or when your little one can climb out). If you prefer a bassinet for the newborn stage, there is a bassinet conversion kit available as well.
---
Photo Credit: Amazon
While almost any white noise machine is sufficient, the Hatch Sound Machine is my number one pick. It's a product that will grow with your child. You will have the white noise option during the infant stage and other sound options for later use. It has a nightlight that can be useful during night feeds and time-to-rise alert option that will come in handy when you reach the toddler years. You can control the color, brightness, volume, and sound from the device directly or from your phone through their app.
If a more simplistic product is more your style, the dohm white noise machine is an excellent product by Marpac that has been around for awhile.
---
6. L.L. Bean Wheeled Duffle Bag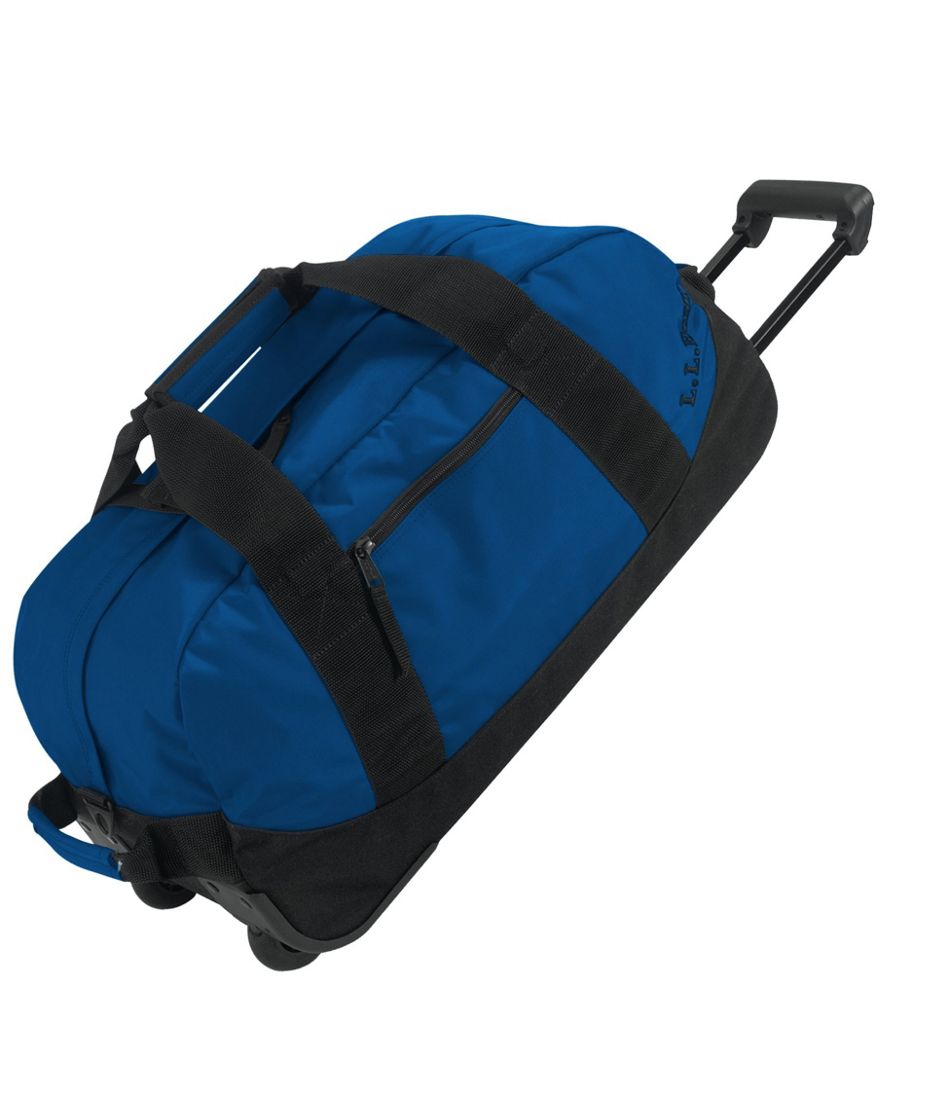 Photo Credit: L.L. Bean
When it comes to traveling with infants, you need to pack a lot of items. Duffle bags offer more wiggle room for squeezing in and shifting around baby essentials compared to a suitcase. The water-resistant adventure duffle by L.L. Bean is a high quality product that will last for years. It has a reinforced nylon bottom, extra long zippers for easy access to items, and a carry strap in addition to being on wheels. I've personally had my duffle bag for almost 10 years. It's been dragged on adventures around the world; India, Bali, Australia (twice), Bhutan, Nepal, etc. Take it from someone who busted a suitcase wheel in Thailand, you want to invest in a well-made, quality product upfront.
---
Photo Credit: Amazon
There are many options in regards to diaper bags. A backpack diaper bag offers a hands-free option for families on-the-go. When traveling, you need all the help you can get. The ability to quickly pop a diaper bag on your back to free up your hands for other essential items is key. I love the Skip Hop Diaper Backpack. This large capacity wide-open bag provides clear visibility to all of the contents inside. No more digging and hunting for items as you can clearly see everything in this bag. It comes with a changing pad, built-in stroller straps and easy-grab top handles. And, most importantly, the side pockets are insulated. You can easily fit two bottles and an ice pack on each side.
---
Photo Credit: Amazon
Packing cubes are an absolute necessity in keeping everything organized. Set yourself up for success with the ability to quickly locate necessary items. Don't waste your time and energy rummaging through luggage upon your arrival. Nothing is more tiresome than getting to your destination and not being able to find what you need. After a long day of travel, you can effortlessly locate baby's pajamas, favorite bedtime story and bathtime/bedtime items by using these cubes.
I highly recommend the packing cubes by Eagle Creek. These mesh top bags provide excellent visibility and breathability. They have a high quality, two-way zipper opening, a quick-grab top handle and come in a variety of sizes to accommodate all of your organizational needs. These packing cubes are basically an organized traveler's dream!
This company also offers a 'No Matter What' warranty. Regardless of cause, they will replace or repair in the event of product failure within the product lifetime. I've used these packing cubes for years of world travel both personally and as a travel nanny. They have held up beautifully!
---
9. Aden + Anais Cotton Muslin Blankets
Photo Credit: Amazon
Muslin blankets serve many purposes when traveling. They can be used as a changing pad in a pinch, a blanket, a nursing or stroller cover, burp cloth or to clean up an unexpected spill or infant reflux situation. Any muslin blanket will do. It doesn't necessarily have to be this one. I like this product as it's cotton, lightweight, soft, breathable and has superior durability. This is a high quality product that will last for years as your child grows and can be repurposed accordingly. It's stylish and comes in really cute prints as well.
---
Photo Credit: Amazon
It's really important to be prepared to help your baby equalize ear pressure during take-off and landing in the event they won't breastfeed or take a bottle. It's nice to have a plan B and even C! I recommend traveling with an "emergency" pacifier in the event the infant won't eat or drink. The organic superfood puffs by Happy Baby are a great option for travel and any pacifier will do. I like the Itzy Ritzy Pacifier as it's made of 100% food grade silicone, is top-rack dishwasher safe and the lovey is easily detachable.
---
Bonus Tip: Get a label maker! You'll thank me later! You may not see the added value until after you accidentally wash your hair with your baby's laundry detergent though (yes, that actually happened).